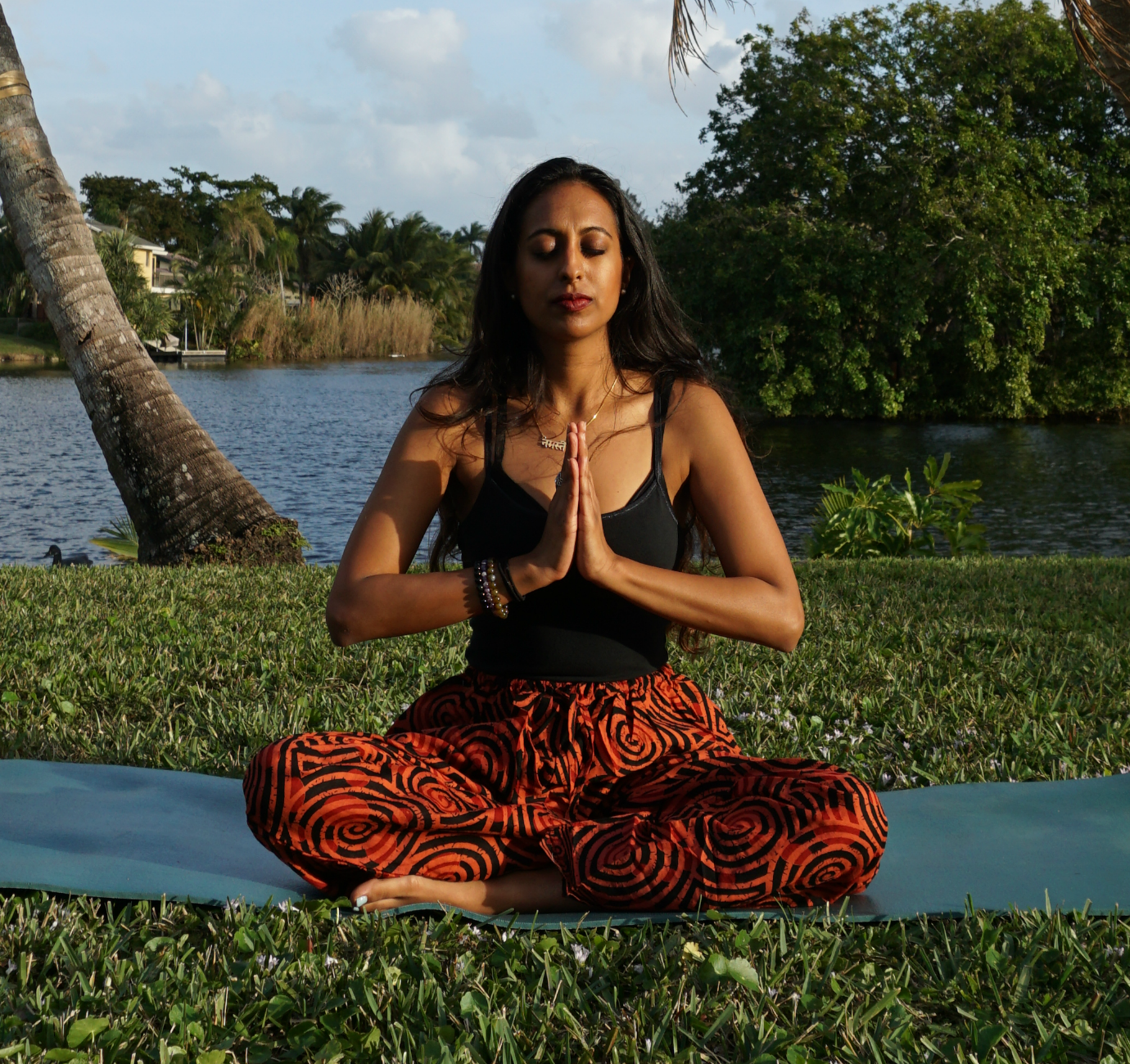 Behind the Vision
Hi! My name is Chahna! Namaskar To You! 
I am South Florida local with a background in occupational therapy. When I was practicing occupational therapy, I saw how important it was to take care of the Self first and lead a healthier life so that later down the road, health would not become a barrier to success. It was difficult to see people as patients when some things could've been prevented if there was more time dedicated to daily self-care. 
This led me to the science of Yoga.
I trained in Rishikesh, India, the yoga capital of the world, to deepen my practice. There, I was fortunate to study the science behind yoga, the breath (pranayama), and meditation.
I have helped myself through the use of yoga and meditation and have been honored to be able to spread these sciences to others in Corporate America and private residents. They, too, are also seeing the benefits and slowly integrating more yoga and meditation into their corporate/personal lives, setting aside time for self-care.
Ayurveda
While focusing on yoga, I started to study yoga's sister science, Ayurveda, in parallel. Ayurveda, which translates to "knowledge of life", is a 5000+ year science that dictates that we must live in harmony with nature. Our bodies have their own individual natures, each of us like our own ecosystem. Take into consideration the world that we live in; we have environmental, dietary, and lifestyle issues that can bring our natural ecosystem out of balance. Using natural and holistic ways (dietary recommendations, lifestyle changes, environmental adjustments), we can bring ourselves back into balance! I am currently an Ayurvedic Health Counselor and am completing my Masters in Ayurveda with a completion of my doctorates in Ayurvedic Medicine in the near future! 

Behind the Name
What does "Namaskar" mean? If you are reminded of the word "Namaste," you are right!
When we break down the word, the root word Namah means "salute" or "to bow", and te means "to you". So, Namaste means "I salute or bow to you with respect"
For Namaskar, Namah is "salute" or "to bow" and kar means "to do"
Therefore, Namaskar means "I do the act of saluting or bowing with respect"
When you say "Namaste" to someone, you are saying that you salute or bow to someone with respect... But, you are not actually doing it!
Namaskar is the physical act of bringing the hands together and bowing, thereby reducing the ego. 
Namaskar To You's mission is to emphasize self-love and the importance of connecting with your self and taking some time out of your schedule to spend a moment outside. It also works to highlight nature awareness, showing the connection, the unity, the yoga between the earth and its inhabitants. Every flower, every ant, and every person is deserving of respect.
Ergo, Namaskar to You!
Your body is like a fine-tuned machine, when you take care of it! If it hasn't been used in a while, it may take some time to warm up!
When you move your muscles and joints, your body delivers nutrients to those areas so that you can function more effectively in the future!
Do this for yourself.
These services are here to spread awareness on simple methods and techniques that can be utilized to reduce tension, stress, and anxiety and help take care of one's body and mind.
Come, and discover the advantages these ancient practices can provide for you!
Ready to Start?
Starting is all it takes!
Schedule a session today and learn how simple techniques can change your quality of life, because everything is connected!
Let's do it!